Related devices
Samsung Intercept
---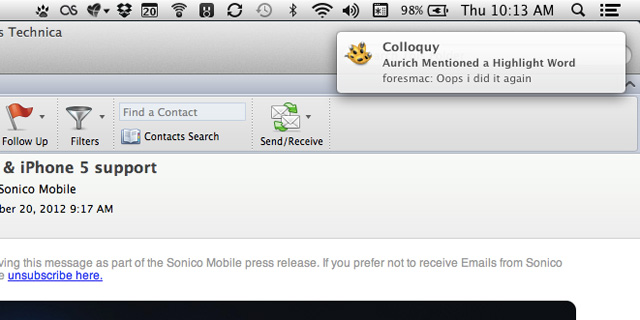 Growl 2.0 forwards notifications from Growl-compatible apps, like Colloquy, to Notification Center on Mountain Lion.
Growl, the system-wide OS X notification framework that has been somewhat usurped by Notification Center in OS X Mountain Lion, saw a major 2.0 upgrade on Thursday. The new version allows apps that use Growl's notification APIs to have those notifications forwarded to Notification Center, replacing several hacks that attempted to bridge the two systems since Mountain Lion was released in July.
In addition, the new version supports forwarding notifications to iOS devices using Prowl or BoxCar. You can choose these as an "action" to fire on certain notifications, and Growl will forward a notification to any suitably configured iOS device.
For those who aren't fans of Apple's baked-in notifications, Growl 2.0 also adds a number of customization features to tailor your notifications setup. And perhaps most important to long-time Growl users, the update addresses several persistent performance bugs that cropped up in the app as its developers worked to recode it to work within Apple's Mac App Store guidelines.
Growl developers had promised an update that would integrate with OS X notifications, as many apps that use Growl haven't been updated to use OS X's notification APIs. But Mountain Lion was released on July 25, and the Growl update did not materialize. Workarounds like Hiss and Bark sprung up in the meantime, but Growl 2.0 is designed to make such workarounds redundant.
At its heart, Growl listens for apps to send it some type of notification using the Growl API, and then displays the notification on a small pop-up window on your desktop. It offers a number of customization features for the style, position, and frequency of these notifications. It also offers a number of power user features, like the ability to fire actions when certain notifications are received, tweak which notifications an app can send, or can even send and receive notifications from Growl running on a network-accessible machine. Growl 2.0 still includes all these features for those apps that use its API.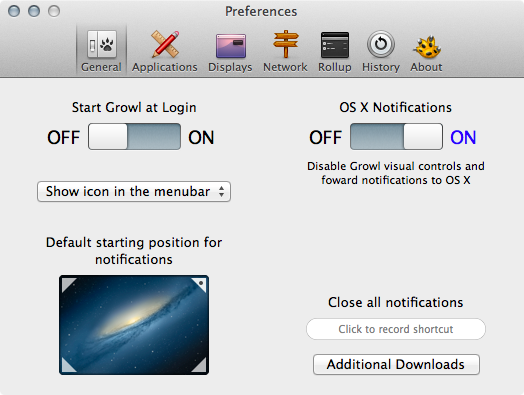 Just flick the large on/off
switch
to forward all Growl notifications to OS X's native Notification Center.
But flick a large switch in Growl's preferences, and all the notifications it gets from different apps are instead forwarded to Notification Center. These notifications appear just as though they were sent by an app using OS X's native notification APIs.
I installed Growl 2.0 to take its new Notification Center integration for a quick test spin. Most of the apps I use on a regular basis already have support for Mountain Lion's notification APIs, and to be frank, I'm generally satisfied with it. However, a couple apps don't use the new OS X APIs, including IRC client Colloquy and Dropbox. I wanted these apps' notifications to be routed to Notification Center.
I have set Colloquy to pop up a notification whenever one of my Ars colleagues mentions my name in an IRC conversation. (This lets me work with Colloquy in the background without having to constantly check it for important notices.) These notifications came through just fine, and collected in Notification Center's list.
Unfortunately, it didn't work with Dropbox at first; I suspected it may have been using an older version of the Growl API that isn't compatible with the latest versions of Growl. However, Growl integration allows apps to send desktop notifications using a default style even if the Growl app isn't installed. Once I quit and restarted Dropbox, it started sending notifications to the centralized Growl app, which were then forwarded to Notification Center.
If you're updating an existing Growl install, you shouldn't run into this issue. Otherwise, you'll want to quit and restart all apps that use Growl to make sure the messages are being received properly.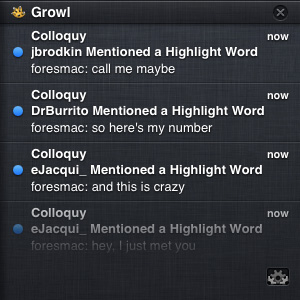 Notifications forwarded via Growl don't show individual app icons.
One problem I had with Growl 2.0's notification forwarding is that while it correctly forwards the name of the app that the notification came from, it sends its own icon to Notification Center. This was a complaint that many Hiss users also had, since notifications from multiple apps all end up in the same section in Notification Center; sorting through them can be tough if you have more than a handful. It's worth noting that the Bark plugin for Growl doesn't share this limitation, and you may prefer to use it instead of Growl's own forwarding for now.
It's also worth noting that Growl 2.0 doesn't in any way enhance the Notification Center functionality in OS X. If you're not happy with the way it works, or you're already happy with Growl, you'll probably want to stick with Growl. Unfortunately, there doesn't appear to be any way to have Growl intercept native OS X notifications and handle them instead. You're stuck with either juggling two different notification systems, or picking one and shutting the other off. As long as the apps you use on a regular basis all support one API or the other, though, you should be fine.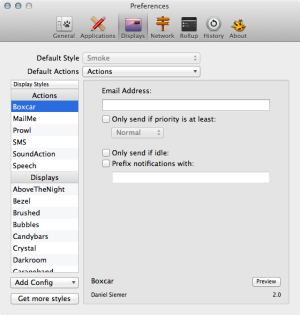 Forwarding notifications to
iOS
devices via Prowl or BoxCar are among the actions Growl can perform.
The reviews for previous versions of Growl on the Mac App Store are riddled with users complaining about CPU usage spiking, or issues launching or otherwise running Growl. Growl 2.0 promises to squash these bugs, and I noticed no performance problems running Growl all morning on my lowly 2010 MacBook Air.
As long as Apple prohibits developers outside the Mac App Store from using OS X's notification APIs, Growl will still find an audience. And as long as users are unhappy with Apple's own limited notification implementation, Growl will still have its fans. The 2.0 update should be a welcome improvement for existing users, and perhaps worth exploring if Mountain Lion's native notifications aren't fulfilling your needs.
Source: http://feeds.arstechnica.com/~r/arstechnica/software/~3/oh5XpaMcau8/
See also:
Новости по теме
2014-12-06 19:42:50
UBS' Evidence Lab Phone Monitor now sees Apple iPhone sales hitting 70.9 million for Q1
6 декабря 2014 г., 19:42:50

Based on the number of Google search requests for the Apple iPhone, Swiss brokerage firm UBS' Evidence Lab Phone Monitor is raising its estimate of first quarter iPhone sales to 70.9 million units. That far surpasses the brokerage firm consensus...
2014-12-06 19:42:35
Pro photographer uses Apple iPhone 6 Plus camera to cover White House event
6 декабря 2014 г., 19:42:35

With all of the comparison testing of smartphone cameras, there is one group whose decisions should have a lot of weight. We're talking about professional photographers. And time and again, this group seems to favor the rear snapper on the back of...
2014-12-06 19:41:25
TAG Heuer Could Unveil Smartwatch at CES 2015 [ REPORT]
6 декабря 2014 г., 19:41:25

Luxury Swiss watch maker TAG Heuer, best known for its high-end watches, is reportedly planning to unveil its intelligent watch at the Consumer Electronics Show (CES) in January 2015. If reports are to be believed, TAG Heuer is pretty much serious...
2014-12-06 19:31:44
Gionee Elife S5.1 Review: Too Slim for Its Own Good
6 декабря 2014 г., 19:31:44

In March this year, the 5.5mm thin Gionee Elife S5.5 held the crown for being the slimmest smartphone in India. It is surprising how things change so quickly. The Chinese company has already announced its next model, the Gionee Elife S5.1, which...
2014-12-06 07:00:02
Apple's iPhone 6 Plus captures Christmas at the White House
6 декабря 2014 г., 7:00:02

The iPhone continues to make inroads into the world of professional photography, with one White House cameraman selecting Apple's 5.5-inch iPhone 6 Plus as his weapon of choice when chronicling the unveiling of this year's Christmas decorations at...
2014-12-06 06:54:04
Apple leads the LTE phone market in Q3 2014, Oppo And Vivo enter Top 5
6 декабря 2014 г., 6:54:04

For 2014's quarter that began on July 1 and came to an end on September 31, Apple remained at the very top of the market for LTE-enabled devices by revenue. This got revealed by Strategy Analytics' quarter report, which covers this fast-growing...
2014-12-06 06:53:36
What if Apple and other tech companies did diapers (like Amazon)?
6 декабря 2014 г., 6:53:36

You might have heard the news that Amazon, one of the largest e-tailers on the planet, has launched its Amazon Elements brand of products where it will manufacture its own products, and even things like diapers. This, of course, turns out to be a...
2014-12-06 06:50:18
Verizon updates LG G3, allowing device to support Advanced Calling 1.0
6 декабря 2014 г., 6:50:18

Is that an OTA update on your Verizon branded LG G3? You bet it is! Verizon has sent out software version VS98512B, and with it comes a number of interesting changes. Once you've installed the update, your LG G3 will support Verizon's Advanced Callin...
2014-12-06 06:45:26
Huawei gives up on Windows Phone, Says it is Unprofitable
6 декабря 2014 г., 6:45:26

China based handset maker Huawei has announced that it is going to stop making Windows Phone based smartphones in the future. Reportedly the company has made this decision due to poor sales. This announcement from Huawei should be a blow for the...
2014-12-06 06:36:24
Sony Xperia Z3 Owners Complaining Of Pink Blotch In Their Photos
6 декабря 2014 г., 6:36:24

When the iPhone 5 was released a couple of years ago, users started to notice what appeared to be a purple flare appearing in their photos. According to Apple this is apparently "normal" and Apple even released a support document that tried to advise...
2014-12-05 19:03:10
Lenovo Yoga Tablet 2 10-inch (Android) Review
5 декабря 2014 г., 19:03:10

Introduction Very few tablets stray from the normal slate designs we're accustomed to seeing, but Lenovo surprised many late last year when they unveiled the peculiar looking, Android-powered Yoga Tablet line. One year later, they're readying...
2014-12-05 19:03:04
Lenovo YOGA Tablet 2 Pro Review
5 декабря 2014 г., 19:03:04

Introduction Lenovo has an arsenal of tablets that fit into the Windows ecosystem, but they're becoming more aggressive in the Android tablet market as well – evident by recent devices like its new Lenovo Yoga Tablet 2 line. Taking charge, the compan...
2014-12-05 19:00:02
Xiaomi Redmi Note Vs Motorola Moto X (2014): An Overlooked, Yet Intense Rivalry
5 декабря 2014 г., 19:00:02

If you are born of this age and keep up to date with what's happening across the smartphone universe, you will know that most of the noise in that respect is made by the affordable segment of the smartphone business. Recommended: Top 10 Best OPPO...
2014-12-05 18:44:22
Did Amazon just take a dig at Windows 8?
5 декабря 2014 г., 18:44:22

Since Jeff Bezos has built Amazon up from an online book retailer in the late 90s to the behemoth it is today, he probably knows a few things about taking calculated gambles. "If you're going to take bold bets, they are going to be experiements...
2014-12-05 12:21:47
This graph shows how much the components of every Apple iPhone and Samsung Galaxy flagship cost
5 декабря 2014 г., 12:21:47

It's no news that Apple and Samsung have been battling over the top spot of the smartphone market for quite some time now. Each and every year, an iPhone and a Galaxy S enter the boxing ring and wage war for potential consumers. It's no news that...
Technical specifications
| | Samsung Intercept |
| --- | --- |
| The sales start | Jul 2010 |
| Available | Available |
| Weight | 139 g |
| Dimensions | 113 mm , 56 mm , 15 mm |
| Memory card (maximum) | 32 GB |
| Screen type | TFT touchscreen, 65K colors |
| Resolution | 240 x 400 px |
| Size (inches) | 3.2 |
| OS | Android OS, v2.1 (Eclair), upgradable to v2.2 (Froyo) |
| SIM | Mini-SIM |
| Wi-Fi | 802.11 b, 802.11 g |
| Bluetooth | v2.0, A2DP |
| GPS navigation | Yes, with A-GPS |
| Battery capacity | 1500 mAh |
| Type | Li-Ion |
| Stand-by | 300 |
| Talk time | 5 |
| Sensors and probes | Accelerometer |
Related reviews
2015-01-26 20:11:47
Review: Huawei Ascend P6
January 26, 2015 8:11:47 PM
  We got our hands on Huawei's Ascend P6 device a few weeks back, and put it through its paces to bring you guys a review. While its an inexpensive device does it have what it takes to keep you connected day in, and day out?    The Ascend P6 is a super thin, and rather stylish Android device, sporting...
2015-01-26 20:10:28
Apple iPhone 6 Review
January 26, 2015 8:10:28 PM
Its another year, leading into the holiday season and that means one thing; new iPhone! Like 2013, the Californian company introduced two models this year, the iPhone 6 and the iPhone 6 Plus. Despite these two devices being very much Apple playing catch up, they're brilliant devices in their own right....
2015-01-26 02:58:00
Apple's iOS 6 Review. Better Than iOS 5
January 26, 2015 2:58:00 AM
Let me open up the first sentence saying that the iOS 6 is not a revolution, but is is a refinement. Yes, since the first iOS was introduced by Apple, it has been a gold standard for tablets and smartphones. Each successive version has just polished itself further and further. So, this means that iOS...
2015-01-26 02:57:53
Verdict – Apple's iPhone 5 Full Review; Finally Best iPhone (Part 3/3)
January 26, 2015 2:57:53 AM
This is the third and final part of our verdict and full review of Apple's iPhone 5. In the first two parts we discussed about why iPhone 5 differ from iPhone 4S, about the look of the device, the screen talk of course as it has become taller now, and something about the 4G LTE network support. In this...
2015-01-26 01:35:44
Nokia Lumia 900 Review – Down But Not Out
January 26, 2015 1:35:44 AM
Nokia's Lumia 900 already had the weight of the world on its shoulders long before Windows Phone 8 came along to deliver what was seen as a fatal blow. While the 900 may have been slow to take off, critics suggested than the Nokia flagship Smartphone was simply learning to walk before it could truly...
2015-01-25 13:50:57
The Nokia Lumia 830 review
January 25, 2015 1:50:57 PM

The thing with today's smartphone market is that unless you make a smartphone that's having the perfect balance between price and features, it's never going to be a hit in the international market. And unless a company figures out a way to do exactly the same, their hopes of dominating the world smartphone...
2015-01-25 07:14:47
PhoneSuit Primo Power Core Rechargeable Battery Pack for Tablets and Phones Review
January 25, 2015 7:14:47 AM
Electronic devices always seem run out of power at the most inopportune times, don't they? Figuring out ways to keep those devices powered for as long as they are needed is key. Whether you are a regular road warrior or simply away from the office for the day, if you aren't going to be near an outlet...
2015-01-25 07:05:28
Apple iPhone 6 Plus Leather Case Video Review
January 25, 2015 7:05:28 AM
I woke up at 2:55am EST when iPhone 6 pre-orders began. I placed my order and was asleep ten minutes later. Of course, AT&T completely screwed up, and my phone won't come for weeks. Fortunately, Wayne posted on a different way to shop, and I have an iPhone 6 Plus AND an Apple iPhone 6 Plus Leather...
2015-01-25 07:05:00
Casetify Review: Turn Your Photos into Cases
January 25, 2015 7:05:00 AM
With the excitement of receiving my iPhone 6 plus, I knew immediately I had to put a case on it. It just so happened that a review opportunity arose from Casetify for a custom case made with my photos. Using the Casetify iPhone app, I was easily able to produce my own custom case. Let's take a look. Casetify...
2015-01-25 07:04:52
OtterBox Alpha Glass Privacy Screen Protector Review: No More Nosey-Rosies!
January 25, 2015 7:04:52 AM
Have you ever sat on a plane catching up on email, Facebooking (yay inflight WiFi!), or watching a movie, only to realize that the guy sitting next to you was stealing glances at your screen? If you believe that the items on your phone are meant for your eyes only, then you need an OtterBox Alpha Glass...
Related instructions
2015-02-05 04:41:51
How to jailbreak Apple's iPhone 6 and iPhone 6 Plus (iOS 8.1 tutorial)
February 5, 2015 4:41:51 AM
Apple's iPhone 6 and iPhone 6 Plus are enjoying tremendous sales success, but for some users the closed nature of the iOS ecosystem might be a bit too stifling. Luckily, it is not impossible to jailbreak the newest iPhones and the process has become simpler and more straightforward in the past few years.So...
2015-02-04 23:38:49
How to watch the Grammy Awards live stream on your iPhone, iPad, Mac or Apple TV
February 4, 2015 11:38:49 PM
The 57th annual Grammy Awards are scheduled to take place this weekend on Sunday, February 8th, and CBS just sent over details on the only official live stream of the event accessible through iPhone, iPad, Mac, or on the big screen via Apple TV. Head below for all the details on how to watch official...
2015-02-04 20:43:42
Forget Bing: How to Use Google Everywhere on Your iPhone, iPad, and Mac
February 4, 2015 8:43:42 PM
Apple has been frantically removing Google from their operating systems. Siri and Spotlight search with Bing by default, and there are rumors they'll make Yahoo! or Bing the default search engine in Safari next. For those of us who just think Google is the better search engine, all this deep integration...
2015-02-04 08:52:48
First Dedicated iOS Malware Discovered – 350,000 Downloads Already
February 4, 2015 8:52:48 AM
Dedicated malware designed to infect iOS or OS X are rarely seen thanks to the closed and secure environment that Apple focuses on. However, things are changing now with a recent development reported by the security researchers who have found a bug which has reportedly affected hundreds of thousands...
2015-02-04 08:52:06
Pangu 8 for Mac Released – Here's How to Jailbreak iOS 8 – iOS 8.1
February 4, 2015 8:52:06 AM
Pangu team has just released the jailbreak solution for iOS 8.0.x – iOS 8.1 for Mac. While the JB solution was made available quite a couple weeks back, it was only available for Windows users. You can now jailbreak your iPhone, iPad, and iPod touch using the tool on Mac without having to run Windows...
2015-02-04 08:48:56
Install WhatsApp on Desktop Using Continuity-Like Feature – Windows & OS X
February 4, 2015 8:48:56 AM
Considering the immense popularity of WhatsApp, there are many users who want to be able to use the messaging app on bigger screens of tablets and desktops. While it is possible to get the app on tablets, you will have to workaround to get the app on Windows PC or Macs. Install WhatsApp on desktop: If...
2015-02-04 08:20:04
OS X 10.9 Mavericks Wallpaper Available For Download
February 4, 2015 8:20:04 AM
Apple released a new operating system and with new operating system a new wallpaper released for all press shots. OS X 10.9 Mavericks is no exception and with its distinctive blue & green wave it pays homepage to Mavericks name. It is a 5,120*2,880 resolution image & it is available for download...
2015-02-04 08:18:21
Twitter App for Android and iOS Updated, Brings Improvemnts to Login Verification, Search Improvements, Photo Gallery and More
February 4, 2015 8:18:21 AM
Twitter updates its Android and iOS app to bring new security and search features, photo galleries, list management and some more interesting enhancements. Now Twitter offers its users more secure way to log into their accounts and better control over logins via mobile phones. The updated Twitter App...
2015-02-04 06:28:50
Set Up Chrome Remote Desktop for iOS: How To?
February 4, 2015 6:28:50 AM
The Chrome Remote desktop is nothing new that the Google has to offer but since it's inauguration,  iOS had been left out, whereas it has permitted users for many years to access their Mac or Windows from an Android smartphone. This Monday however, Google has released an iOS version of the Chrome Remote...
2015-02-04 06:26:45
Here's How You Can Now Unlock Your MAC Using Touch ID From Your iOS Device
February 4, 2015 6:26:45 AM
The launch of iOS 8 brought many new features to your door step. One such feature was Handoff which connects your iOS devices to your OS X system. This enabled you to continue your work on the other device from where you left off making it seamlessly easy to switch between devices without foregoing your...